HOW WE DO IT - Our methods
Using a mix of traditional and modern methods we ensure the best results that fit with your property.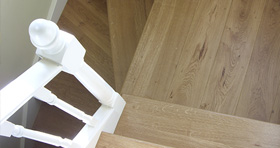 Traditional Laying
This traditional method fixes the boards using a selection of different nails (including long lost head nails, brads and fine shank rose head nails), depending on the style of flooring.
Joist floor clamps and ratchet straps are used to keep the floor tight when fixing, ensuring an expert, gap free finish.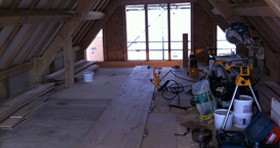 Secret Nailing
We use a specialist nailer to fire 50mm nails into the tongue (of the tongue and groove joint) at approximately 45°.
This process is used for solid and engineered wood of 180mm wide or less, although it can be used with wider wood if accompanied with glue (Bona R850 or Sika T52).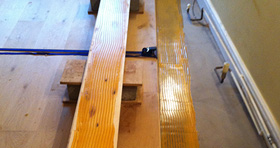 Gluing
We use glue in areas where joists or subfloors are not available and to complement the 'secret nailing process'.
Modern glues such as Bona R850 or Sika T52 are so strong and flexible that this successful method is highly recommended. It is one of the most cost effective ways of laying a floor, improving rigidity and preventing cupping.
In order to ensure a successful gluing process, all the right conditions need to be met. If the subfloor has a high moisture content, then an epoxy resin damp proof membrane can be used prior to gluing.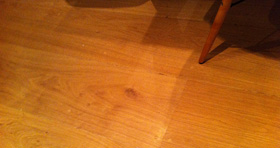 Face-fixing with screws
For solid wood wider than 180mm and when glue cannot be used, for example when fixing to joists, face fixing using screws and plugs is required.
This method is not only a good strong mechanical fix; the matched tooling of the bores and plugs is aesthetically very pleasing too.