HOW WE DO IT - Preparation
As experts in working with all Grades of listed buildings all our restoration work is carried out in line with regulations.
We use a mix of modern and traditional techniques, and materials and tools to achieve the best possible results. We create a finish that is sympathetic to the flooring, decor and property, that will last for years.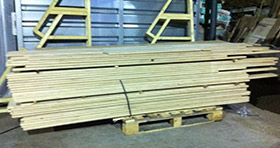 The wood we use
We only use new and reclaimed wood of the highest quality. Through our experience and contacts, we are able to source many types and ages of wood flooring at very competitive prices. We stock reclaimed wood such as Georgian and Victorian pine, old oak & elm, strip flooring and Parquet (woodblock).
As well as this being a fantastic form of recycling it also means that you get to use rare materials like old Elm and rare pitch pine, which sometimes cannot be purchased new anymore.
We also supply very good quality, sapwood free, French Oak floorboards. These are both solid and engineered wood, supplied in 2–3 metre lengths, ranging from 180mm to 300mm wide.
Due to changes in both the prices of reclaimed wood and the Euro we are unable to provide any fixed prices. However, as we do not have the costly overheads of running a shop, we are able to keep our prices low.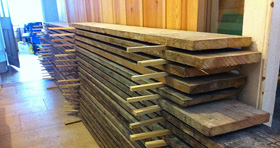 Acclimatisation
Before wood floors can be laid, the wood needs to acclimatise to the house environment.
This ensures it has the correct moisture content (9–12%) and so prevents shrinkage and cupping.
Typically, using 20mm solid wood, it would need to sit in the house for approximately one to three weeks prior to laying. The boards would be stacked with 10mm bearers between the planks to allow air to circulate.
It is important that the acclimatisation process is done after all the wet works (e.g. plastering) have finished and dried out.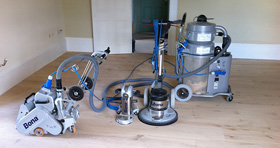 Floor Sanding
Our customers are often surprised and delighted to see very old and tired floors brought back to life after sanding.
We use the latest Bona 98% dust free sanding systems, saving time by not having to isolate or protect areas, or cleaning up extensive dust afterwards.
Depending on the condition of the floor to be sanded, we start using either 24 grit or 40/60 grit, moving 20 grits at a time through to 120 grit.
We pride ourselves in the care and precision we take, when using machinery, ensuring there are no marks left on the wood and the surface is beautifully prepared for finishing.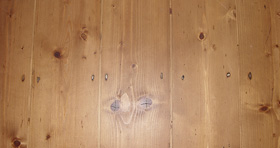 Gap Filling
Gaps in floorboards can allow liquids and other items to drop through and let drafts and insects in.
In order to ensure a consistent and gap free surface on your wooden floor, we fill gaps with cut down timber wedges of similar age and colour. These are planed and glued in with waterproof adhesive and sanded flat.
Small gaps or holes are filled with either a resin mixed with fine sanding dust or a two-pack wood filler. We find the resin mixed with dust particularly effective with parquet flooring.
An alternative way to ensure there are no gaps, is to lift the boards, de-nail and re-lay them using floor clamps. This is a very successful method although it can be more costly due to additional time and extra materials involved.