WHAT WE DO
Wooden floors, whether antique or new, add an unsurpassed natural warmth and beauty to any room. Installing new or renovating old floors can completely change ambiance; opening up rooms and walkways, creating a flowing visual movement from one room to the next.
Whether restoring an antique floor to its former glory or laying new parquet and oak flooring, we always work with our clients to understand exactly what they want and expect from the finished project.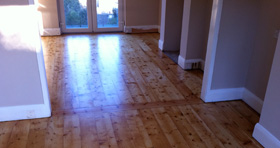 Restoration
Working with floors that can be hundreds of years old, we take extreme care to understand their history, wood type, fixings and discover any hidden surprises. Our expert knowledge helps us determine our approach to successfully achieving the required finish.
Floors in all conditions and styles can be restored and re-laid. Some floors can be repaired by adding in salvaged period boards, with these being chemically cleaned, along-side the existing floorboards, to retain the original patina. This is most effective on floors that have some built up patination, such as Georgian/Victorian pine, oak or elm boards.
Where floors are unsuitable for chemical cleaning or if the desired outcome is a utilitarian and even looking surface, we carry out careful sanding and apply products to suit the desired finish and usage.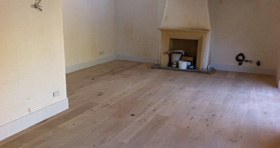 New Flooring
New wooden floors can be very hard wearing and provide a uniform, consistent and even finish that is both beautiful and easy to clean.
We work with private individuals, interior designers and architects to review wood types, board widths, technical requirements, laying style and finishes, before helping define the right solution.
In addition to supplying and fitting traditional solid wood flooring, we also work with engineered flooring. This is perfect for use with under floor heating systems as it is more stable than solid wood. Though having all the appearance of solid wood flooring it doesn't contract and expand with heat and moisture in the same way; making it less prone to warping and cupping. When combined with old flooring it can create a visually stimulating contrast.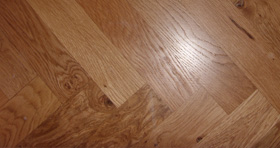 Parquet floors
This visually impressive flooring is easy to clean, hygienic and hardwearing. As well as restoration, we're experts in designing and laying new parquet flooring.
Parquet floors are most commonly laid in the herringbone pattern with two block (lattice) work border. However, numerous other patterns are also available including Chevron, Lattice work (Brickwork) and basket weave. To see examples of these please just get in touch.
Parquet floors start from the middle of the floor and work out towards the border with a cork expansion strip running the perimeter of the floor, allowing for expansion and contraction (under the skirting).
The reclaimed woodblocks are glued and re-laid using a traditional tar, flexible adhesive Laybond 17 or Ball & Co F21. For new woodblock we use modern glues like Bona R850 or SikaT52).